Hawker's Bridge Paint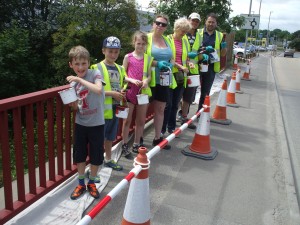 Hawkers Bridge which is the road bridge over the river Cale as you enter Wincanton, just by Lidl's has looked a little unloved for sometime. The paint was flaking and the guys and girls at C.A.T.C.H. thought that we approach the town council to explore the idea of C.A.T.C.H. leading a voluntary group to sand down and re-paint the bridge as it was felt that it didn't present a very good image for the town for anyone visiting and an eyesore for anyone from town who has to pass it. C.A.T.C.H. were aware that such a project could cost the town council and the town folk several thousand pounds to bring in a paid contractor and felt that they had the necessary skills to take the challenge on.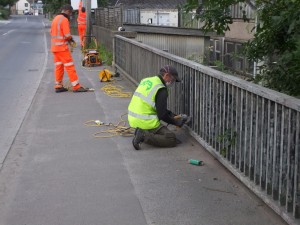 The town council agreed and fully support C.A.T.C.H. throughout the planning stage. Painting a bridge is not a simple matter, C.A.T.C.H. Vice Chairman Matt Bishop who lead the project had to set up meetings with the Highways Department, Bridge Inspector and source materials as well as complete the required risk assessments. An early spanner in the works was that fact that old paint on the bridge may have contained lead which could present several health and safety as well environmental issues. The old paint had to be tested first, fortunately there was no issue. Materials where sourced from Kellaways who are located on the edge of town and who were particularly helpful and supportive of the project.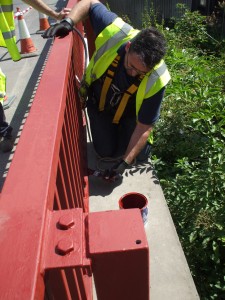 After two evening sessions of sanding down the call went out to the community and many came to help paint the bridge on Saturday 16th July 2016. C.A.T.C.H. members were joined by the town mayor, town councilors and  members of the public.
Several random acts of were experienced on the day, cars tooted their horns as a sign of support and several motorists stopped their cars and hand over drinks, lollies and ice-creams, all expressing their gratitude and thanks. The support on social media was also over-whelming.