Britain in Bloom 2017
A lovely award to receive from the Britain in Bloom organisation.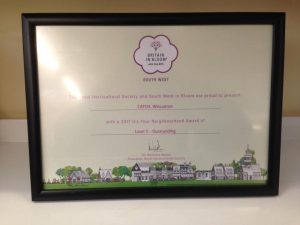 We were judged on several key areas including Biodiversity, engagement with the community including schools and just making things better in our town by actually doing it. Yes, there are lots of us now doing our bit. Well done to everyone who supports and actively helps the green spaces and of course the River Cale . I often see people picking up odd bits of rubbish and even cleaning up after other people's dogs which is admirable to say the least. Keep up the good work as we have a a lot planned for 2018.
The award received 'Level 5 – Outstanding', is the highest possible award.