Otter photographed on the Cale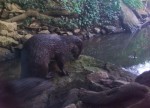 Although we've known for two or three years that otters have been living on the river Cale, and they have been sighted in varoius spots including the Wincanton recreation ground, we've never been able to secure a really good photograph of one of them – until now. Andi Smith, the "naked farmer" just across the parish boundary in Charlton Musgrove, has previously taken snaps of the otters with night-vision camera traps, and now provides this picture of an otter sitting by the riverside.
Otters suffered greatly from the use of dangerous pesticides during most of the 20th century, but since their removal in the late 1970s they have recovered strongly and can now be found in every county in Britain. They have no natural predators and are vulnerable only to human activity and habitat destruction, so their success is one of the great environmental stories of the last fifty years. Thanks to farmers like Andi Smith, and many others in our area who practice very environmentally-friendly farming, we expect them to continue to thrive along the Cale for the foreseeable future.