Environmental Agency tests the water quality of the Cale
In early September, a visit from the Environment Agency took  place where they tested the River Cale's water quality. This came about directly as a result of CATCH's work.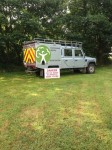 The test involved what is called "electrofishing," which basically means they electrocute the river and everything in it. Of course they use very low levels of electricity, far too low to kill any of the wildlife in the river; but enough to stun the fish and enable the surveyors to catch and count them. The survey took place on the river at Skater's Curves, to the south of the cricket pitch.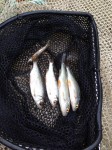 The immediate results were that the surveyors caught several dace, which are a good indicator of reasonably high-quality water. There were also very good numbers of minnows. While these results indicate that there is still much work to be done, they also show that the Cale is vastly improved in condition from its low point some years ago.
Full results of the survey will be available in October, and will help CATCH decide on a plan of action for the months to come.