A Day in the Life of the CATCH Stand
On June 15th, a pleasant sunny Sunday afternoon, our chairman Gary took the CATCH stand and the assorted paraphernalia along to Horsington Village Fete
, to show the villagers what we're about and what we've been up to so far,
and build in the interest produced by running the Mayfly in the Classroom project at the local primary school.  He also took a few pictures along the way, lest the rest of the committee refuse to believe that he made it! Here, then, is an account of a day in the life of the CATCH stand and its attendees.
The local stream in Horsington flows into the Cale, and with several in attendance who had taken part in the school project there was a fair amount of interest in our group's activities. Gary was able to show them some of the more interesting artefacts collected from the river, as well as a variety of the plant and animal life contained within it. Not to be outdone, daughter Sophie was to be found selling packets of ready-to-plant flower seeds to help make their gardens more bee-friendly – and to raise some extra CATCH funding!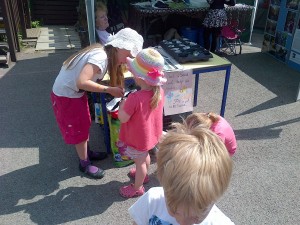 We have also been invited to display our stand at the upcoming Evershot Country Fair on Sunday June 22nd, where CATCH will once again be spreading the word about the River Cale, rivers and wildlife in general, and how people can play their own small part to give nature a helping hand.
If you have an upcoming event and would like CATCH to set up their stall or to send one or two people along to discuss our activities, please contact us via email at [email protected] or on our CATCH Mobile number – 07 597 127 187.